Small Pellet Mill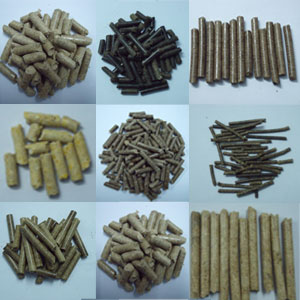 Our small pellet mill can make wood pellet and animal feed, designed for differant usage, the structure is differant. The pellets on the picture are made by our
ZLSP120
when it is testing. These different pellets are made from miscellaneous tree, pine, stalk, bagasse, peanut shells, corn, rice bran, bamboo powder, and wheat stalk. If you are not sure whether the raw material you have can be made into pellets by our pellet mill, we are very willing to test and figure it out for you. Moreover, if you don't bother to send us your special materials, we will use them to test our pellets making machines immediately after we receive them.
Adopted by this machine, can control the feeding capacity correctly to suit different materials and meet the production requirement of pellets with different diameters. Granulation of materials such as various feedstuff for livestock,poultry and aquatic products,grass meal,organic fertilizer,etc
ZLSP120 Small Pellet Mill Makes Pellets in the Above Picture
Model: ZLSP120
Capacity: 40-80kg/h
Power:2.2-3kw
Net Weight:210kg

Outside dimension:1130*480*920mm
As we know, the original design of flat die pellet mill is used for processing feedstuff, But through our client's feedback and diligent research, our Flat Die Pellet Press can process wood sawdust, straw, different kinds of stalks, grass, etc. Whether it should add little binder into the material or not, it depends on the raw material. But during our several times test, if add little binder into the material, the appearance of final pellets will become bright. In addition, the best moisture content for pelletizing is between 13%-15%.
Technical Data of the Small Pellet Mill:
| | | |
| --- | --- | --- |
| | | |
| ZLSP230B Pellet Mill | ZLSP360B Pellet Mill | ZLSP120 Pellet Mill |
| | | | | |
| --- | --- | --- | --- | --- |
| Model | Power(kW) | Output (kg/h) | Measurements (mm) | N.W/G.W (kg) |
| ZLSP 120B | 3 | 60-100 | 750*320*680 | 80/100 |
| ZLSP 150B | 4 | 90-120 | 800*450*700 | 95/110 |
| ZLSP 200B | 7.5 | 200-300 | 1650*820*1200 | 200/230 |
| ZLSP 230B | 11 | 300-400 | 1050*480*930 | 290/320 |
| ZLSP 260B | 15 | 400-600 | 1180*540*1000 | 320/360 |
| ZLSP 300B | 22 | 600-800 | 1240*540*950 | 350/380 |

These small pellet mill is mainly flat-die designed, and can make pellets for both animal feed and heating. All you need is to change the flat die and rollers. Adopting the latest advanced technology, our small pellets press is able to work effectively with dies and rollers for making both feed pellets and biomass pellets. Moreover, the flat die and the rollers are easy to change and install.
Of course, we also provide pellets making machines only to make biomass pellets or just to press animal feed pellets. In this case, you can gain higher production rate and longer service life. All of our pellets making machines can be customized according to your specific requirements.
To make pellets from biomass materials, like wood, sawdust, peanut shell, bagasse, leaves, stalks, and rice husks, etc, you probably need to pulverize these raw materials into small particles as preparation. Then mix them well and make their moisture content less than 15%. After the raw material is well prepared, put them into our small pellet mill and you will get high-quality biomass pellets for heating and cooking easily.
As for making feed pellets, you can prepare the raw materials based on your own choice and animals' growth. The raw material for making animal feed pellets should also be shattered and ensure that they contain proper moisture. Then put them into our flat die pellet press, they will fall down to the area between the die and the rollers, and be compressed into the small holes in the flat die. After the pellets emerge on the other side of the flat die, a series of knives will cut them into the same pre-determined length. Thus you get your desirable feed pellets.
Product catalogue
Contact Us
Anyang General International Co., Ltd Tel: 0086 372 5965148 Fax: 0086 372 5951936 E-mail: sales@agico.com.cn Add: Suite A,4/F Jinhao Business Bld.,Renmin Rd.,Anyang,Henan,P.R.C.