Biomass Briquetting Press
In all kinds of briquetting machines, biomass briquette press is to compact the powder material into biomass briquettes. There are two types of biomass briquette machines, screw press and ram press. Compared to reciprocating piston briquette press, screw type biomass briquette machine have its good features.
From the shapes of products, we can differentiate how the biomass briquettes are produced. The product can be different shapes of column with about 10cm to 50cm long such as hexagon, cylinder or quadrangle shape. If the center of column has a hole, the biomass briquettes are from screw briquetting press. No hole in center, from ram briquetting press.
Screw type briquette press can produce biomass briquettes with higher compaction. After feeding, the material is conveyed to the briquette forming head by a revolving screw shaft driven by electrical motor or biodiesel motor. The screw shaft is the main part of biomass briquette press. The screw distance become smaller and smaller along the screw shaft to briquette froming head. With the decreasing screw distance, the material endures bigger and bigger pressure. At end, different shapes of biomass briquettes form out under huge pressure from revolving screw shaft. Because of the shaft, there is a hole left in the center of biomass briquette column.
The screw pressure is bigger than jam pressure, so the biomass briqettes have high density which is easy for transport and storage. Compared to solid, the hollow in center of biomass briquettes makes for burning. With these good features, screw type biomass briquette press is more popular in the production.
After years' experiment, we develop this kind of briquetting machine with capacity from 80kg per hour to 230kg per hour. The motor of biomass briquette machine can be 11kw/15kw/18.5kw/22kw-3phase-380v-50hz electrical driven. Our briquette press can work 16 hours per day.
Video of Briquette Machines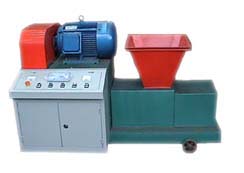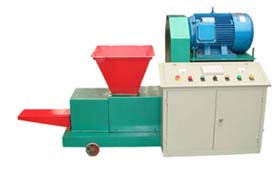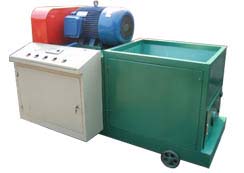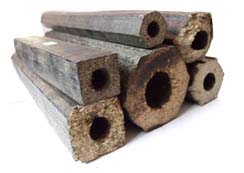 Model
ZBJI
ZBJII
ZBJIII
Output kg/h
80-120
120-150
180-230
Motor Power (kw)
11kw(energy saving type with gear box)
15kw(without gear box)
18.5kw
Electric heater (kw)
1.5kw*3pcs
1.5kw*3pcs
2kw*3pcs
Weight(kg)
650kg
650kg
900kg
Overall dimension(mm)
1780*750*1290
1650*600*1260
1860*800*1360mm
Size of finished products
Diameter:
30,40, 50mm

Diameter:
30,40,50mm

Diameter:
60,70,80,90,100mm
Manufacturers of Briquette Press and Compacting Equipment.
Product catalogue
Contact Us
Anyang General International Co., Ltd Tel: 0086 372 5965148 Fax: 0086 372 5951936 E-mail: sales@agico.com.cn Add: Suite A,4/F Jinhao Business Bld.,Renmin Rd.,Anyang,Henan,P.R.C.