Oil Neutralization
Oil Neutralization
Oil neutralization also named oil deacidification is the process of neutralizing free fatty acids in oil by addition of alkali. It is the key technology in the process of oil refining process. The principle of acid removal is that after adding alkali, the free fatty acid becomes soluble in water and be removed. The actual operation need to add a certain amount of excess alkali, in order to thoroughly alkali refining. Alkali amount, alkali concentration, temperature, crude oil quality and mixing time and speed will have an impact on the alkali refining effect.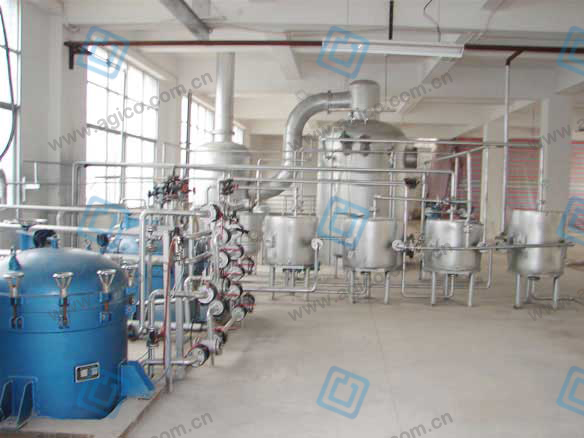 Oil neutralization and deacidification is a process that has a great impact on the quality and price of the product. If there is a problem in the neutralization process, it will bring difficulties to the process after decolorization and reduce the product quality and yield. Deacidification usually has two methods of physical and chemical methods, in principle, physical refining method that stripping deacidification method should be used as the preferred process of oil refining. The chemical neutralization method, which uses sodium hydroxide to neutralize the free fatty acids in the crude oil, will produce soap and waste water. However, the choice of physical refining or chemical refining, mainly depends on the quality of crude oil.
If you have any questions, please contact us, we will reply to you at the first time. AGICO grain and oil machinery production major include oil press, pre press equipment, oil production line, oil seed extractor, solvent evaporator, oil refining equipment, crusher, complete leaching equipment and mould rolling machine, batch refining, large full set of oil processing equipment, salad oil equipment, welcome to send inquiry to us!