Pellet Mill
Pellet Packing Machine
The GE series Pellet Packing machine is special designed to use in feedstuff, chemical and biomass pelletizing plant. Composed of electronic automatic packing balance, hemmer and conveyor, it can also equip with heat-sealing machine for plastic bag. The quantitative electronic packing balance includes feeding part, filling part, weight control system etc.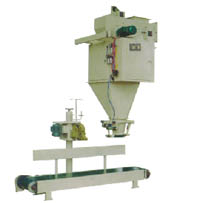 Full Automatic Packing Machine for Granular Material is the product developed by our company. The pellet packing machine adopts electric measurement technology with international attestation. It has the following automatic and digital functions of weighing, carrying, bagging, discharging, transporting and auto and digital transporting during the whole packing process. It features compact structure, easy operation, high precision and fast speed.
If wood pellets after cooling don't go to the burning process directly, bagging is needed to avoid wood pellets from affecting damp. The packing process is necessary. In this process, we assemble best pellet packing machine to you in China.
Generally, most clients need small scale pellet packing machine with auto-sealing or large scale pellet packing machine with semi-auto sealing. The weight range is according to our clients' requirements.
(1). The special aseismic device can guarantee precise calculation, fast speed and stable working even in bad conditions. It can be adjusted easily, very convenient to maintain.
(2). The important parts of pellet packing machine can choose the imported from abroad with longer life and high anti-jamming ability.
(3).The quantitative capacity can be adjusted freely in its range.
(4).It is widely used in packing of pellets and other powder materials in biomass pelletizing plant.
Product catalogue
Contact Us
Anyang General International Co., Ltd Tel: 0086 372 5965148 Fax: 0086 372 5951936 E-mail: sales@agico.com.cn Add: Suite A,4/F Jinhao Business Bld.,Renmin Rd.,Anyang,Henan,P.R.C.