Storage Silo
Storage Silo
Storage silos are mainly used in the storage industry and can be used to store granular, powdered, grain, oil, food, brewing, coal, building materials, etc. In the field of industry and agriculture, urban and rural areas and environmental protection industries have been widely used. The most common are grain storage silo, flour storage silo, wheat storage silo.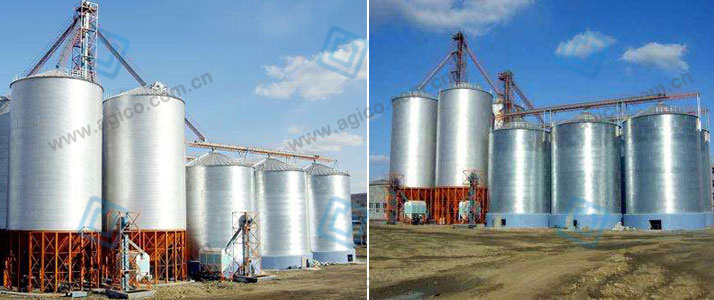 AGICO introduced the latest technology to create a spiral steel grain storage silo, has become the first choice of grain storage. Spiral steel silo has the following product advantages.
Storage Silo Advantages
1. Good sealing performance
The five layer of spiral edge is very tight, good air tightness, can be used as fumigation warehouse, can also be used for flour and other powder materials. Spiral edge bite mouth embedded sealant, can store liquid materials such as sewage.
2. Small footprint
Height, diameter can be arbitrarily selected in a larger range. Can make full use of space, reduce the area.
3. Long service life
The cylinder body is made of hot dip galvanized coil, the top of the storage silo is made of zinc plating process, the corrosion resistance is strong, and the best material ratio is selected in the silo body, and the normal life can reach 20-25 years.
4. Short construction period
The construction of the spiral bin site, the mechanization degree is high, the construction period is short, can make the warehouse as soon as possible put into use, for the user to create time efficiency.