Type A Chicken Cages
Type A Layer Cage System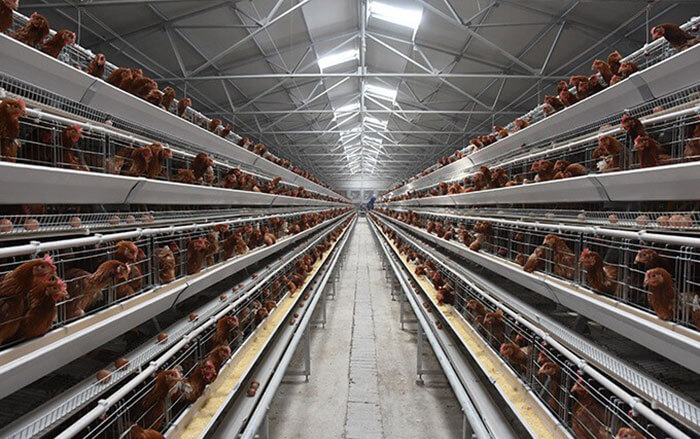 Type A layer cage system
Type A layer cage system is the first type of chicken cage that has been widely used after the chicken industry has moved from free-range farming to intensive farming. The layer cage system is specially developed for laying hens. The design is usually 2-4 tiers. One set of cages can feed 90-200 chickens. The fully automatic type A layer chicken cage system consists of an automatic drinking system, an automatic feeding system, an automatic manure removal system, and an automatic egg collection system, which can realize fully automatic layer feeding.

Specifications of layer cage
Automatic drinking system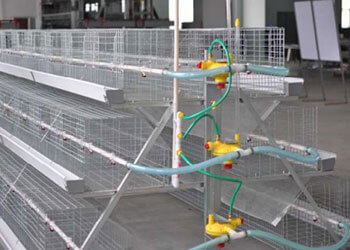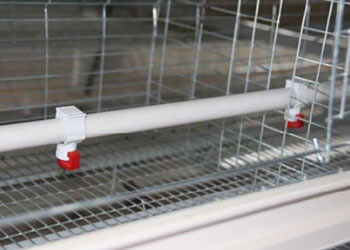 The automatic drinking water system adopts a three-way layer waterer and a touch-type drinking water, which is efficient and water-saving, with 360-degree water output. The drinking fountain is made of stainless steel and plastic, and it can be used by adding a 14mm hose during installation.
Automatic feeding system
The layer chicken cage system has two feeding methods for users to choose from, the gantry type and the traveling hopper(feeding carts).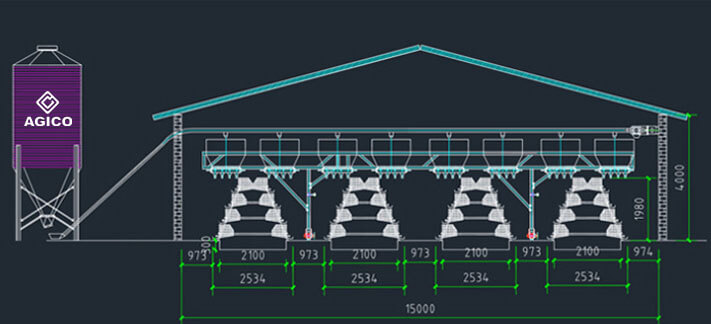 Gantry feeding display
The gantry feeding method adopts rectangular and square material laying, which increases the contact area, avoids slippage, walks stably, and saves electricity. The feeder can automatically move forward and backward as you want, with less feed waste, and the feeding amount can be adjusted according to the running speed of the feeding cart.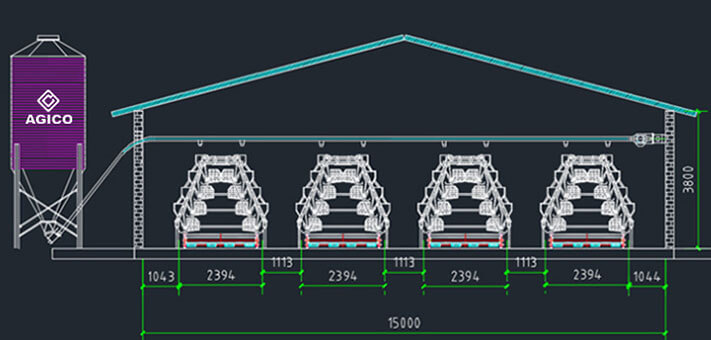 Traveling hopper feeding display
The traveling hopper-type feeding method transports the feed in the turret to the driving hopper of the chicken house through the transverse feeding device. The car runs back and forth, the homogenizer distributes the feed evenly in the trough, and the feed amount can be adjusted. This process works completely in accordance with the pre-set automatic control program.
Automatic manure removal system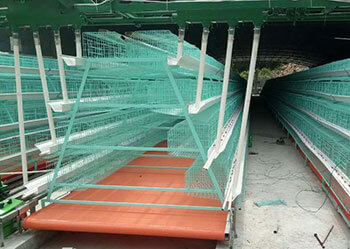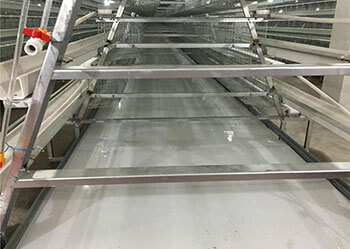 Type A layer chicken cage system adopts conveyor belt type manure cleaning machine for manure removal treatment. This system is suitable for caged chicken houses such as stacked and stepped cages. The main advantages include the following points.
The conveyor belt type manure cleaner can dry the chicken manure into granular form, thereby improving the utilization rate of the chicken manure.
The conveyor belt type manure cleaner can directly transport the chicken manure to the manure truck outside the poultry house.
The use of conveyor belt type manure cleaner makes the chicken manure non-fermented in the poultry house and makes the air in the house fresh.
The conveyor belt of the manure cleaner is made of special EPVC nylon and other anti-aging materials, which have the characteristics of sun protection, cold protection, acid and alkali resistance.
Type A Broiler Cage System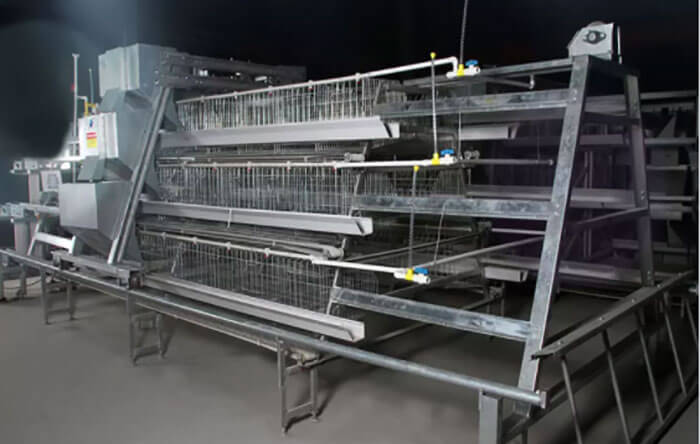 Type A broiler cage system
Type A broiler cage system is suitable for broiler breeding. Compared with the free-range type, it has realized a substantial increase in the number of broiler breeding. Broiler chicken cages reduce the activity space of broilers, reduce energy consumption and waste of feed, thereby accelerating the growth rate of broilers. Type A broiler cage system is also equipped with feeding, drinking, and manure removal systems.

Broiler cage specifications
Type A Chicken Breeding Cage System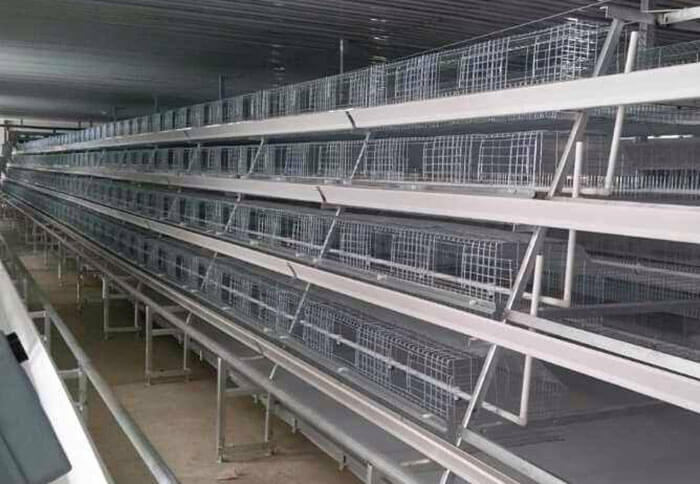 Type A chicken breeding cage system
Type A breeder system is a two-tier or three-tier ladder cage, which is suitable as a group cage for breeders to mate naturally. There is no partition in the middle of the chicken breeding cage, and the cocks and hens are mixed in a certain proportion in the cage. The chicken breeding cages suitable for artificial insemination of breeders are divided into cock cages and hen cages, and the structure of the hen cage is the same as that of the layer cage. The cock cage does not have the bottom net of the egg guard plate, the horns, and the gap between the eggs, and the rest of the structure is the same as the layer cage.
Chicken breeding specifications
| Item NO. | Unit Length | Unit Depth | Unit Height | Dimension/Unit(Mm) | Cells per tier | Tier | Birds per cell |
| --- | --- | --- | --- | --- | --- | --- | --- |
| Cock cage | 1950 | 400 | 500 | 1950×400×500 | 24 | 3 | 1 |
| Hen cage | 1950 | 400 | 400 | 1950×400×400 | 30 | 2 | 2 |
Type A Pullet Cage System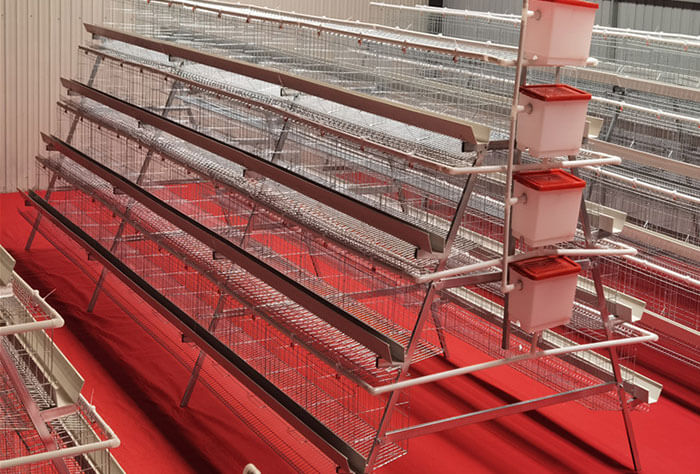 Type A pullet cage system
Type A pullet chicken cage system is suitable for feeding chicks between 1 week and 17 weeks old. The type A pullet cage system can choose electric heating or no heating according to the regional temperature. In tropical areas where the temperature is higher, the pullet cage system without heating can be selected. For areas with lower temperatures, it is recommended to use a pullet cage system with electric heaters and automatic temperature control devices. The heating and temperature control system can maintain the temperature and humidity in the cage, making the environment more suitable for the growth of pullet chickens. The temperature adjustment range is between 20-40℃, and the temperature control accuracy is less than ±1℃. The type A pullet cage system has high cleanliness and good epidemic prevention effect, and the survival rate of pullet chickens can reach 95%-99%.
Pullet cage specifications
| Item NO. | Unit Length | Unit Depth | Unit Height | Dimension/Cell(Mm) | Cells per unit | Activity space per bird | Birds per cell |
| --- | --- | --- | --- | --- | --- | --- | --- |
| Pullet cage | 1950 | 500 | 350-400 | 350×500×(350~400) | 3 | 390~433cm2 | 9-10 |
Auxiliary equipment

Auxiliary equipment
Vent window
Strong anti-aging performance, long service life, flexible opening, air inlet anti-bird net design.
Cooling pads
A variety of material choices, no surfactants, natural water absorption, fast diffusion, long-lasting performance, smooth and smooth paper, no burrs.
Ventilation fans
One-time stamping and forming, extra-thick galvanized layer, strong corrosion-resistance, hot pressure casting forming, light material, high strength, good toughness, and no fracture.
Feed storage bin
The feed storage bin is made of double-sided galvanized sheet material, with good airtightness, firmness, and practicality. The material tower is designed with a downward cone inclination angle so that the feed is released smoothly and unimpeded.
Our Service
AGICO can provide users with standard and non-standard cages for breeding livestock and poultry, such as layer cages, broiler cages, chicken breeding cages, pullet cages, rabbit cages, pigeon cages, and quail cages. We also supply drinking water systems for livestock and poultry, automatic manure removal systems, automatic feeding systems, as well as cage cooling facilities and other breeding equipment.
In addition to layer cage equipment, AGICO also provides a variety of feed pellet mills. Whether you need breeding equipment or feed making equipment, AGICO can provide you with a high-quality supply of products.

Related Products
FAQ
Q: which one is suitable for my chicken farm?
A: Once you want to start your chicken farm, you can tell us your chicken coop size, we will provide a free chicken farm layout design. We have a team to do research on the poultry industry for 10 years, they will help you to start a modern and scientific farm.
Q: How long can the chicken cage be used?
A: 15-25 years(based on different surface treatment methods).
Q: How to install the cage?
A: We provide installation service in two ways!
1. We will provide an installation manual or video to guide the installation.
2. We will send engineers to your factory to guide the installation on site.
Q: How is your payment term?
A: Generally, our payment term is T/T 30% in advance and the balance 70% against the copy of B/L. Other payment terms we can also discuss.
Note: Min. Order: 500 bird