Chicken Battery Cages for Sale
AGICO is committed to providing you with the highest quality chicken battery cage equipment. As a professional supplier of chicken battery cage, we provide you with various cages throughout the whole growth cycle of chickens, from brooding cages for raising chicks to layer cages and broiler cages for adult chickens, as well as breeding cages for mating and reproduction.
AGICO has nearly 20 years of experience in the design and production of chicken battery cages. The company has invested nearly 130 million yuan, and its R&D and production base cover an area of nearly 50 acres. We have a professional chicken cage design and development team and carry out long-term cooperation with China National Poultry Research Institute. With strong technical force and advanced automated chicken cage manufacturing production lines, our chicken battery cage products are widely sold in more than 50 countries and regions overseas.
Chicken Battery Cage from Alibaba's 16+ Year Gold Supplier
Certifications
As a gold supplier certified by the global wholesale trade industry leader Alibaba.com, AGICO has been providing high-quality chicken battery cage equipment to global users for 16+ years. Our chicken battery cage products have passed ISO9001 quality management system certification, EU CE certification, African PVoC, Nigeria SONCAP, OHSAS18001 certification, etc.
ISO9001
CE certification
African PVoC
Nigeria SONCAP
OHSAS18001 certification

Material and surface treatment
Chicken battery cages are made of high-quality low-carbon iron wire Q195/Q235, with a special coating on the surface, and the longest service life can reach 20 years.
Surface

treatment method

Service life
Cold galvanized chicken battery cage
6-10 years
Hot galvanized chicken battery cage
15-20 years
PVC coated chicken battery cage
15-20 years
Multiple chicken battery cage options
The styles of chicken battery cages are changeable, and there are many choices of chicken capacity. Multi-layer chicken battery cages can be stacked according to needs.
Type
Tiers
Number of chickens/set
A Type, H Type
2-9
Brooding cage
Layer cage
Broiler cage
Breeding cage
162-324 birds/set
54-240 birds/set

90-120 birds/set

40-150 birds/set
Chicken battery cage system has complete supporting facilities
The chicken battery cage system is equipped with automatic feeding system, drinking water system, manure cleaning system, temperature control system, and air purification system. If you choose our automatic chicken battery cage system, you will get the highest economic benefits with the lowest management cost. The automatic chicken cage system is the best choice for large and medium-sized chicken farms.
Automatic feeding system
Automatic drinking water system
Automatic manure cleaning system
Automatic temperature control system
Air purification system

Battery Cage Design and Free Chicken House Layout Planning Services
The length support range of a single set of our chicken battery cage products is between 650-2400mm, and the width range is between 1200-2210mm. Customers can choose according to their own needs. The battery cage design layers are between 2-9, and multiple sets of chicken cages can also be stacked vertically for breeding. The specific height of chicken battery cages depends on the layers of cages.
AGICO has a professional poultry cage design team, which provides customers with customized services for special-sized poultry cages all year round. If you don't know what kind of chicken battery cage to choose, or how to layout your chicken house, you just need to trust AGICO, the chicken battery cage equipment specialist, to provide you with a one-stop poultry raising solution.
10,000 chicken house layout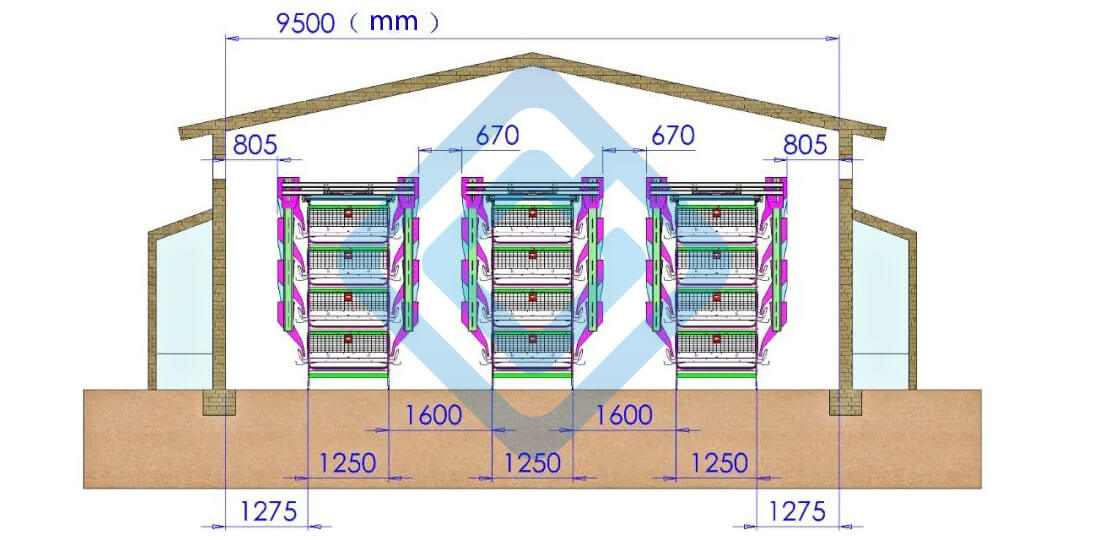 You just need to tell us your breeding scale (how many chickens do you want to raise?), or the size of your chicken house, and our experts will recommend the right type of chicken cage and a reasonable chicken house placement plan for you.
The selected chicken cage model is a 4-layer layer cage with the size of 650mm×1250mm×2850mm.
The required plant width is 9.5m, and a total of three rows of chicken cages are arranged vertically.
There are 47 sets in each row, and each set can raise 72 chickens.