Mini Oil Mill
Mini oil mill is a small volume, convenient carrying, vacuum filtration, automatic temperature controlled oil mill machinery. Mini oil mill commonly used screw structure. By the company technical personnel to study carefully, the final design oil making machine can be used in the peanut, soybean, rapeseed, sesame, rapeseed and other raw materials of multifunctional screw mini oil mill and mini automatic oil mill equipment. This kind of screw mini oil mills squeeze out the oil products of good quality, taste fragrant, the oil rate is high, can be widely used in the majority of urban and rural small oil mill plant.
Screw mini oil mill production process is simple, can be carried out on-site processing at any time. oil seeds get into the machine to become oil, can ensure that the edible oil is pure and good. Consumers can rest assured that consumption, so as to stimulate consumer desire to buy, for the oil mill to bring huge economic income.
Screw Mini Oil Mill
The working principle of screw mini oil mill
Through the rotation of the rotating shaft in the squeeze the role of the propeller, so that the material continuously forward. At the same time, due to the continuous advancement of the rotating shaft, the space volume of the pressing chamber is reduced, and the pressing effect of the edible oil is produced. After compression, the grease is squeezed out from the gap of the pressing cage, and the pressing material is pressed into a cake shape from the end of the pressing chamber.
YZS Series Screw Mini Oil Mill

| Model | Capacity | Power(Kw) | Net Weight(kg) | Outside Dimension(mm) |
| --- | --- | --- | --- | --- |
| YZS-68 | 50kgh | 5.5 | 140 | 920*490*780 |
| YZS-80 | 100kgh | 5.5 | 330 | 1320*540*1020 |
| YZS-95 | 150-200kgh | 7.5-11 | 620 | 1620*630*1260 |
| YZS-100 | 200kgh | 7.5 | 80 | 41640*640*1200 |
| YZS-120 | 250kgh | 11 | 650 | 1820*630*1300 |
| YZS-130 | 200-300kgh | 11 | 520 | 1870*640*1200 |
| YZS-160 | 400-500kgh | 18.5 | 820 | 1930*680*1480 |
YZS Series Mini Automatic Oil Mill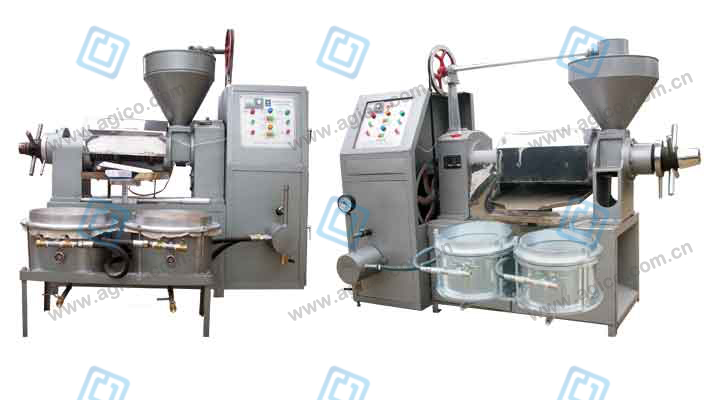 Model
Capacity(T/24H)
Power(kw)
Weight(kg)
Dimensions(mm)
YZS-30 Mini Automatic Oil Mill
15(kg/h)
1.5
156
900*900*1100
YZS-70 Mini Automatic Oil Mill
30(kg/h)
4
256
1000*1000*1250
YZS-80A Mini Automatic Oil Mill
2-3
5.5+0.75
780
1860*670*1680
1060*590*600
YZS-95A Mini Automatic Oil Mill
5
7.5+1.5
900
2250*890*1820
1230*640*570
YZS-100A Mini Automatic Oil Mill
5
7.5+1.5
900
2270*750*1820
1220*590*600
YZS-120A Mini Automatic Oil Mill
6
15+1.1
1000
2280*890*1775
1350*700*600
YZS-130A Mini Automatic Oil Mill
10
18.5+1.5
1000
2350*810*2000
1350*700*570