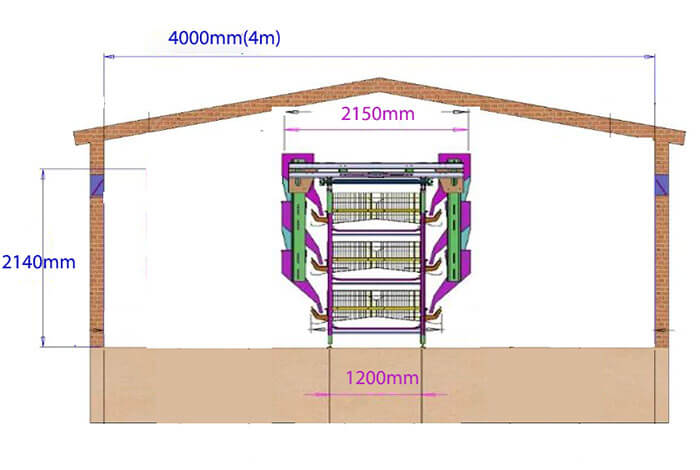 Layer Chicken House Plans for 500 Chickens
Application: layers chicken house
Chicken cage model: H-Type layer cage, 3 tiers, 144 birds/set
Number of chicken cages: 4 sets
Design layout: 4 sets/row, 1 row/house
Number of chickens: 144 birds/set ×4 sets/row ×1 row/house =576 birds/house
Chicken house size (L×W×H): 10m×4m×3m
Chicken cage size: 1800 mm×1200 mm×2140 mm
Chicken house beam height: >2940mm
Details of Layer Chicken House Plans for 500 Chickens
This chicken house plan is specially designed for small-scale laying hen production customers with a scale of 500 laying hens. The plan uses 4 sets of three-layer H-type layer cages, each cage can breed up to 144 layers, and four sets of chicken cages can breed up to 576 layers. Due to the small breeding volume, the layout of the chicken house is arranged in a single row. For small-scale laying hens, the plan is not equipped with fully automatic auxiliary breeding equipment. If customers have this demand, they can choose to add automatic manure cleaning, automatic drinking water, automatic feeding device, etc.
Specifications of 3-Tiers H-Type Layer Cage
Model
Dimension(mm)/set
Tier
Door/tier
Bird/door
Bird/set
1200 Type
1800×1200×2140
3
8
6
144
Area/bird(cm²): 450
Layout of Layer Chicken House Plans for 500 Chickens
Length calculation and layout of chicken house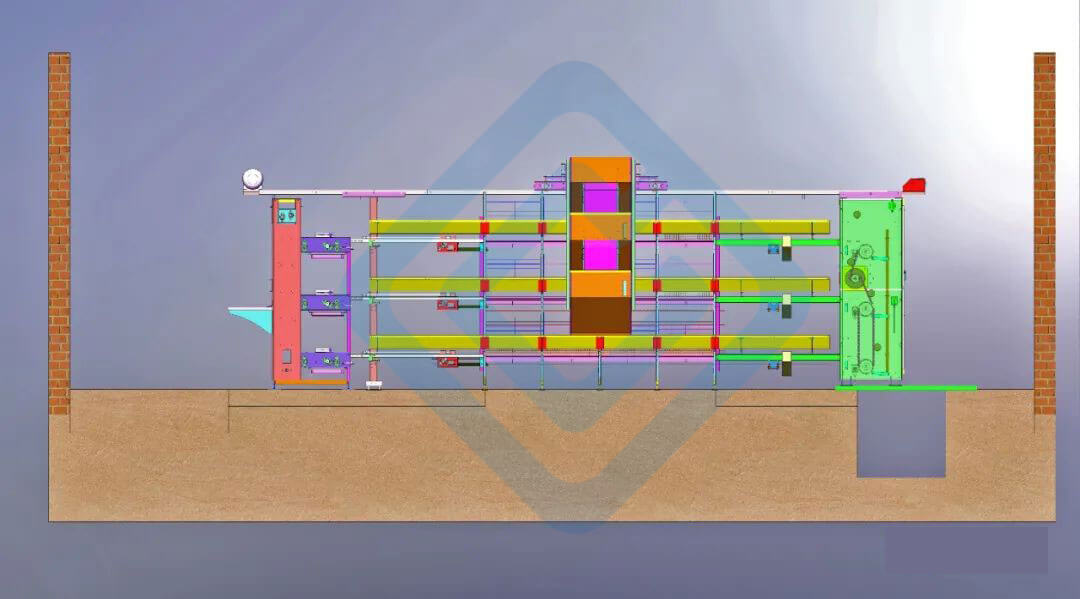 The length of each set 1200-type layer cages is 1800 mm, plus the reserved space and the width of the legs, a total of 1835 mm. The total length of the four groups of layer cages arranged in a single row is 1835×4=7340mm (7.34m). The front section of the chicken house needs to reserve operating space, equipment placement space, etc., and the rear end also needs to reserve appropriate space, a total of 2-3m.
Width calculation and layout of chicken house
The 1200 type layer cage has a single cage raising space width of 1200 mm, the finished product outer width is 1560 mm, and the total outer width after adding the feeding machine is 2150 mm. There should be at least a width of more than 600mm between the single-row chicken cage and the left and right walls. We do not recommend excessive compression of the aisle width to facilitate the normal passage of equipment and personnel.
Height calculation and layout of chicken house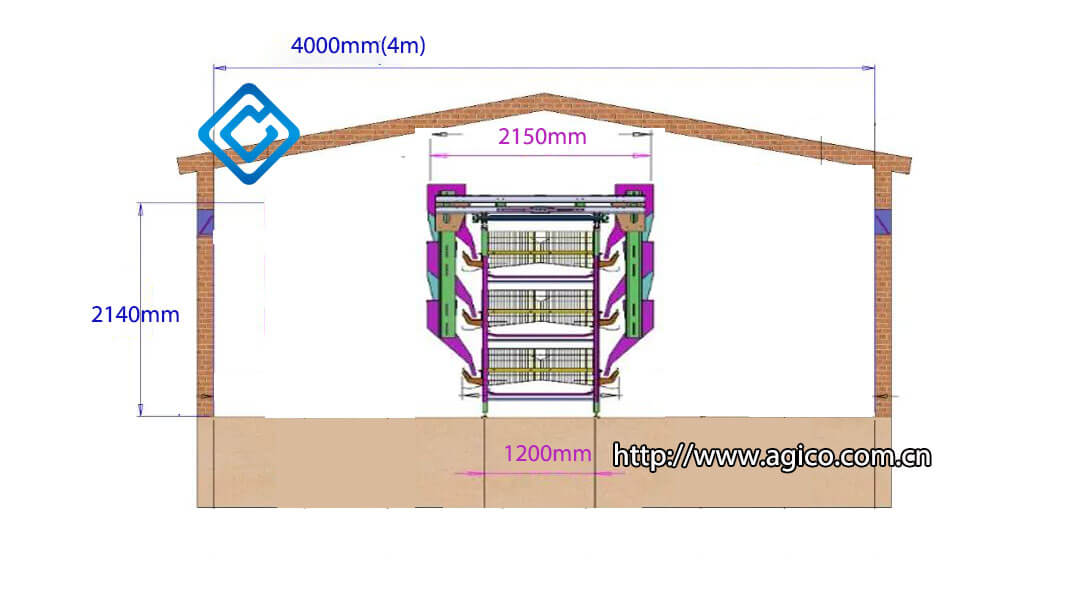 The height of each layer of the 1200-type layer cage is 650mm, and the height of the three-layer cage plus the leg frame is about 2140mm. The height of the chicken house beam should be at least 800mm higher than the top of the chicken cage, so the height of the house beam should be at least 2940mm.
Customization of Layer Chicken House Plans for 500 Chickens
The chicken house and its internal layout are designed based on 500 chickens. The final chicken house size is 10m×4m×3m, and the designed maximum breeding capacity is 576 birds/house.
If the size of your chicken house has been determined, we are happy to provide the layout design of the chicken house and automatic breeding equipment for your chicken house. We have a professional team to provide you with a chicken house plan that suits you. Welcome to send us your requirements.