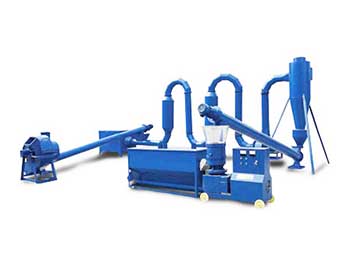 Parameters of Small Scale Pellet Plant
Model: 500 kg/h, 1 kg/h, 2t/h small scale pellet plants
Production Capacity: 500kg/h-2t/h
Hole Size of Flat Die: 2.5-10mm
Raw Materials: biomass crop, agricultural waste, wood
Small Scale Pellet Plant Meet Your Household Or Commercial Fuel Pellet Making Needs
Small scale pellet plant is a combination of pellet manufacturing machinery, and its production capacity is between small pellet mill and large scale complete pellet plant. Small scale pellet plant, we sometimes call it small pelleting line or mini pellet plant, the production capacity range from 500kg/h-2t/h, can meet your small scale biomass and wood pellet production needs. The pellet production plant covers a smaller area and is easy to install and maintain. Its cost is lower than the large scale complete pellet plant, more suitable for farm or home use, small scale biomass factory.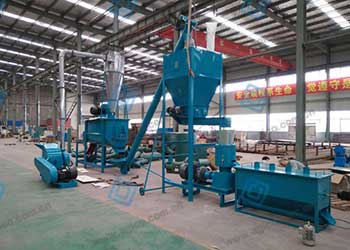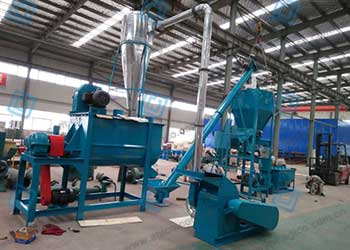 Small Scale Pellet Equipment Composition
Small scale pellet plant is a complete set of small pelleting production line, consisting of the pellet manufacturing equipment in each link. The production process is mainly made up of drying equipment, crushing equipment, mixing equipment, pellet mill equipment, granulating equipment, cooling equipment, feeding equipment, packaging machine, etc. The use of these auxiliary equipment improves the efficiency of pelletizing, but not every device is necessary. According to your actual needs of your select one or more pelletization plant equipment.
Small pelleting line production process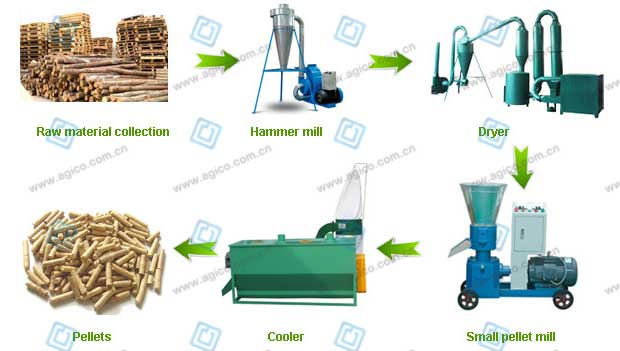 500kg/h wood pellet manufacturing machinery

2t/h small pelleting line
Mini pellet plant equipment
Dryer: the main function of the dryer is to dry the raw material with excessive moisture. Mini pellet plant granulation conditions need to keep the moisture of raw materials between 12% ~ 18%. For raw materials with excessive water content, a dryer is required.
Hammer mill: because the size of many raw materials is too large, it is necessary to use the hammer mill to crush the material to less than 6mm, so it is convenient for the granulating work to proceed smoothly.
Pellet machine: the pellet machine is the most critical equipment in the mini pellet plant. The crushed material is poured into the particle chamber and extruded by the machine to make cylindrical particles. Differ according to the demand of the small scale pellet plants, which requires a matching output value of the pellet machine.
Cooling machine: the finished product particle temperature is up to 75-95 degrees, the water content is 13-15%. If it is stored directly without cooled, it is very easy to mold and affect the use of particles.
Small Pelleting Line Main Raw Material and Pellet Products
Small pelleting line main suitable for biomass materials and wood materials. In addition to different production capacity , small scale pellet plant can also be based on customer needs to create a different length, different diameter of the granular products.
Biomass pellet production
Pellet production line can be used for processing peanut shells, bagasse, straw, rice straw, rice husk, sunflower shell, cotton stalk, bamboo shavings, palm shell biomass raw materials.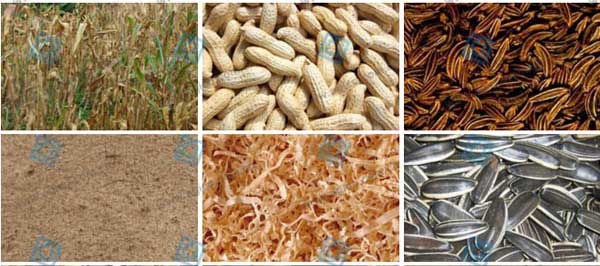 Small scale wood pellet production
Pellet production plant also good at dealing with wood raw materials. Wood raw materials mainly include wood chips, sawdust, wood shavings, wood scraps, etc.


The finished biomass and wood pellets product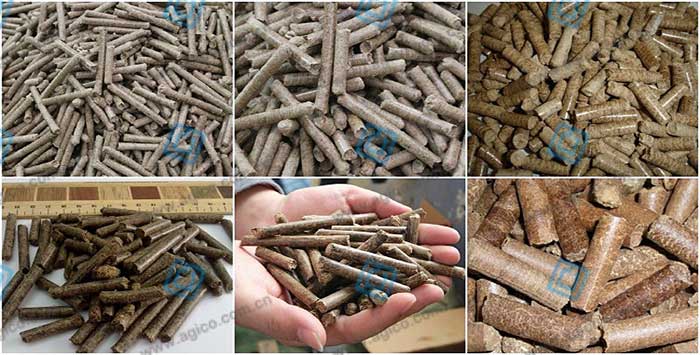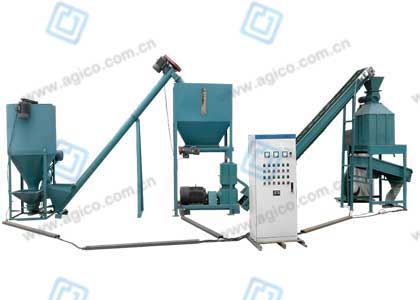 Small Biomass Pellet Production Line
Small biomass pellet production line is a biomass pellet processing equipment developed for your biomass fuel small factory. Small biomass pellet plant is especially good at making biomass pellet products....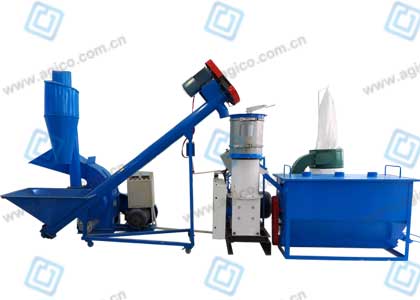 Small Scale Wood Pellet Plant
Small scale wood pellet plant is wood fuel pellets making production line. small wood pellet line developed for wood raw materials, making better quality of finished wood pellet fuel products....