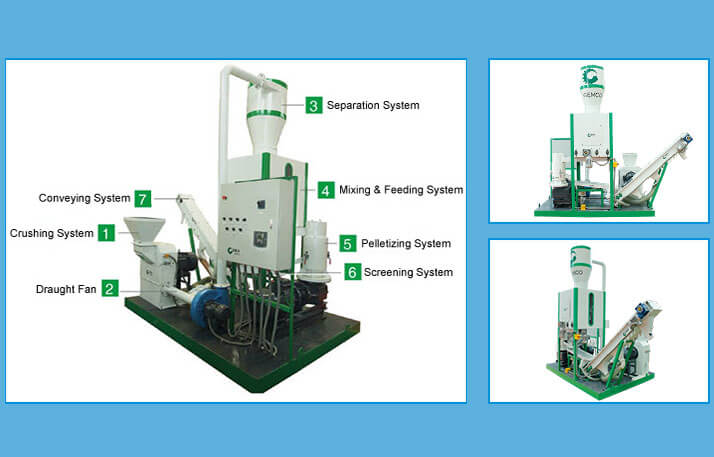 Mobile pellet plant, which is my company in the years of technology on the basis of precipitation, with integration of foreign advanced technology and fully understand the user's multi-level needs in accordance with European and American style development and design of pellet plant equipment. Mobile pellet plant also can be called multi-function small pellet plant; the device can be used either for biomass fuel pellet fabrication or for feed pellet process. Small pellet plant raw materials applicability is wide with crushing, mixing, conditioning, granulation, cooling, and other functions. Appearance is simple and easy, can satisfy the use of different end users.
Mobile pellet plant including hammer mill, complete separation system, air supply system, mixed feeder, conditioning system, pellet mill, sorting system, cooling system, conveying mechanism, use of frequency adjustment control of key work processes. Small pellet plant is complete and reasonable, strong adaptability, can meet different levels of user demand for small pellet plant equipment.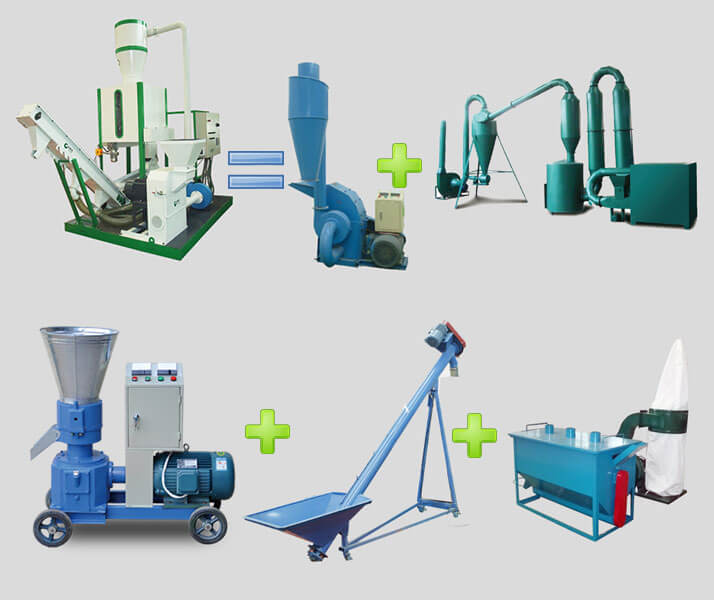 Why Do You Need A Mobile Pellet Plant?
A mobile pellet plant is a small pellet production line. If you own a mobile pellet plant which equivalent to have one crusher/hammer mill, one dryer, one screw conveyor and feeder, one small pellet machine and one pellet cooler.

The biggest advantage of the small pellet plant is the small size, easy to move, easy to build your own mobile pellet production line anytime, anywhere.

Due to the small pellet plant has the advantages of simple equipment, operation and management require only one worker can finish the whole small pellet production line, can effectively reduce the labor cost, bring better economic benefit for you.

Mobile pellet plant using high-quality components from Schneider Electric. Feeder and screw conveyor design is reasonable, the built-in frequency conversion motor, allowing them to better control the speed.
How To Choose A Suitable Small Pellet Plant Model?
We have different types of small pellet plant performance for you needs as follows, you can control your needs to choose the appropriate models. If you have anything doesn't understand, welcome to contact us, we will provide the most suitable solution for you.
Raw material
Animal feed
Biomass
Pellet diameter
2.5-6mm
6-12mm
Pellet density
0.6-1.2t/m3
1.0t/m3
Capacity
600-800(Corn 65%,seedcake 20%,rice bran or bran
leather 15%)
250-450(Wood, waste wood, straw, peanut shell ,ect)
Total power
41.31kW
41.31kW
Dimension
1960*3500*3500
1960*3500*3500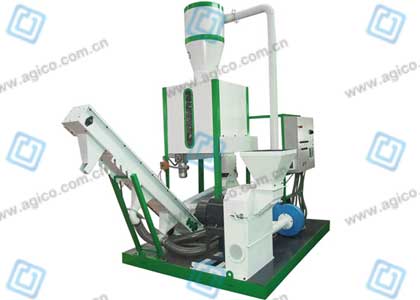 Mobile Biomass Pellet Plant
Make pellet fuel, preferred mobile biomass pelleting plant. Mobile pellet machine is a machine that specializes in making biomass pellet fuel. Using mobile biomass pellet plant for pellets production has many advantages....