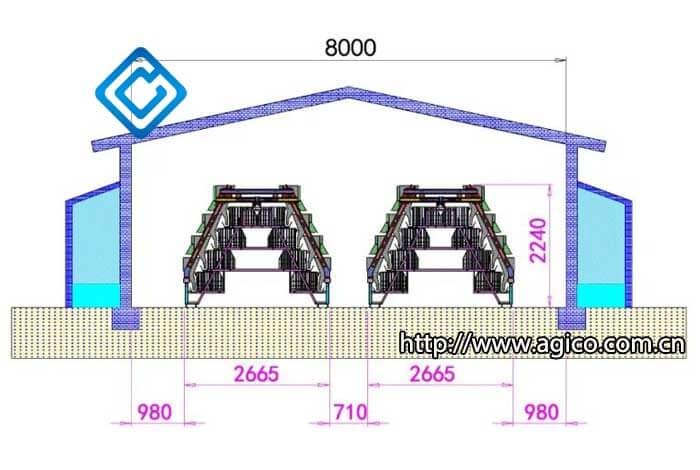 10,000 Birds Poultry House Plans for Broilers
Application: Medium scale broiler poultry house
Chicken cage model: A-Type broiler cage, 4 tiers, 144 birds/set
Chicken cage size: 1840 mm×2210 mm×1865mm
Number of chicken cages: 70 sets
Number of chickens: 144 birds/set ×35 sets/row ×2 row/house =10080 birds/house
Design layout: 35 sets/row, 2row/house
Poultry house size (L×W×H): 72m×8m×4m
Poultry house beam height: >3040mm
Details of Poultry House Plans for 10000 Broilers
This henhouse plan is specially designed for medium-scale broiler chicken houses, with a number of 10,080 chickens. The size of the poultry house is 73m×8m×4m and covers an area of 584m2.
AGICO chicken cage experts configured A-type four tiers broiler cages for the 10,000 broiler poultry house plan. The broiler cage is cold galvanized, with a smooth surface, low price and a service life of up to 12 years. The size of each cell of the four tiers broiler cage is 610mm×500mm×370mm, which can accommodate 6 broilers weighing 2.5kg, and the area of a single chicken can reach 508cm2. If the broiler weight is within 2kg, each grid can raise 7 broilers.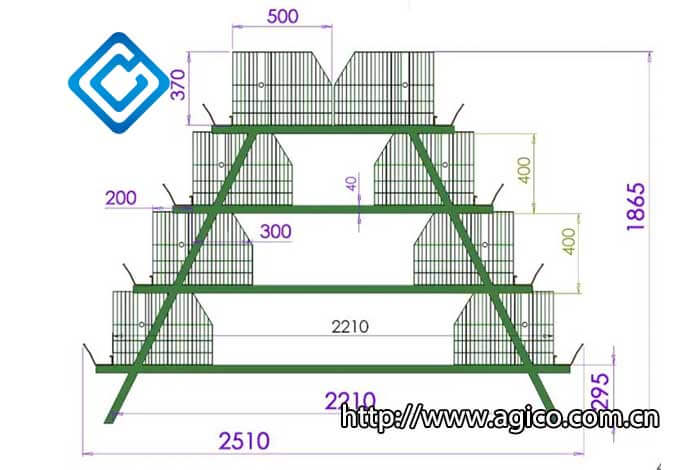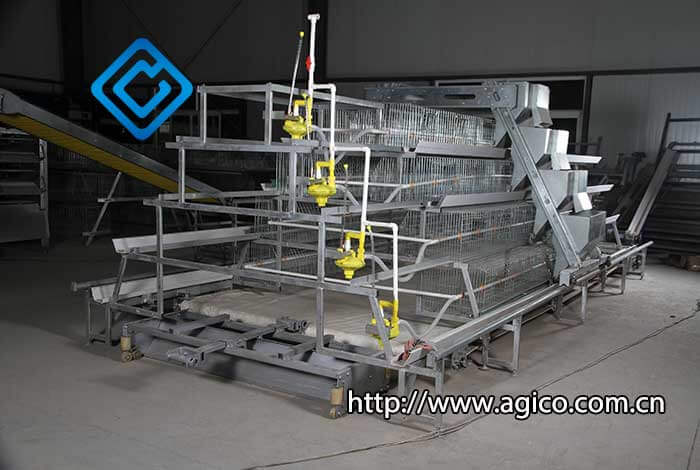 Type
Dimension(mm)/set
Tier
Door/tier
Bird/door
Bird/set
A Type
1840×2210×1865
4
6
6
144
Area/bird(cm²): 508
Supporting equipment
Cold galvanized or hot-dip galvanized cage
Mesh cage
Waterline: water pipe + nipple
Feed trough
White pad net
Fully automatic drinking
Water system
Feeding system
Manure cleaning system
Layout of Broiler Poultry House Plans for 10000 Chickens
Length calculation and layout of 10000 broiler poultry house
A type four tiers broiler cage has a single cage length of 1840mm, plus cage frame legs and spacing lengths of 1875mm. In the poultry house plans for 10000 chickens, there are two rows in total, with 35 sets of broiler cages placed in each row, with a length of about 1875mm×35=65625mm (about 66m).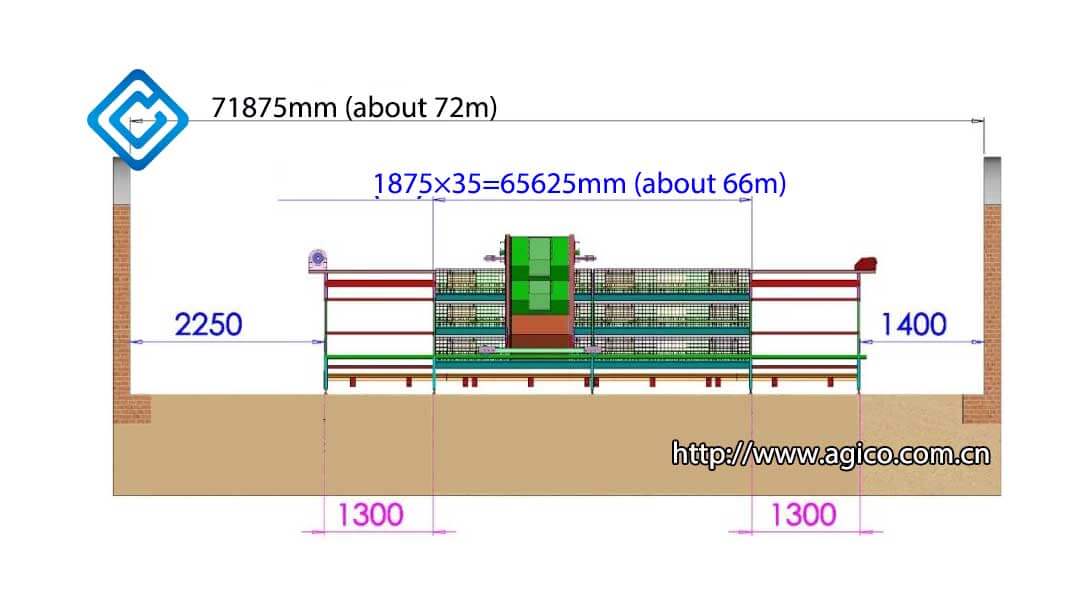 The broiler house needs to reserve a certain space in front of and behind each row of chicken cages for placing automatic manure removal, feeding, drinking water, and other automated equipment and equipment aisles. The poultry house plan designed this time reserves about 3550mm at the front end and 2700mm at the rear end.
Therefore, the final length of the broiler house in the poultry house plans for 10000 chickens is 65625mm+3550mm+2700mm=71875mm (about 72m).
Width calculation and layout of broiler poultry house
After adding the automatic feeding equipment, the width of the broiler cage is about 2665mm. The plan is designed to be arranged in two rows. The design interval between the two rows of chicken cages is 710mm. The reserved width between the chicken cages and the wall is 980mm. Therefore, the design width of the poultry house is 2665mm×2+710mm+980mm×2=8000mm(8m).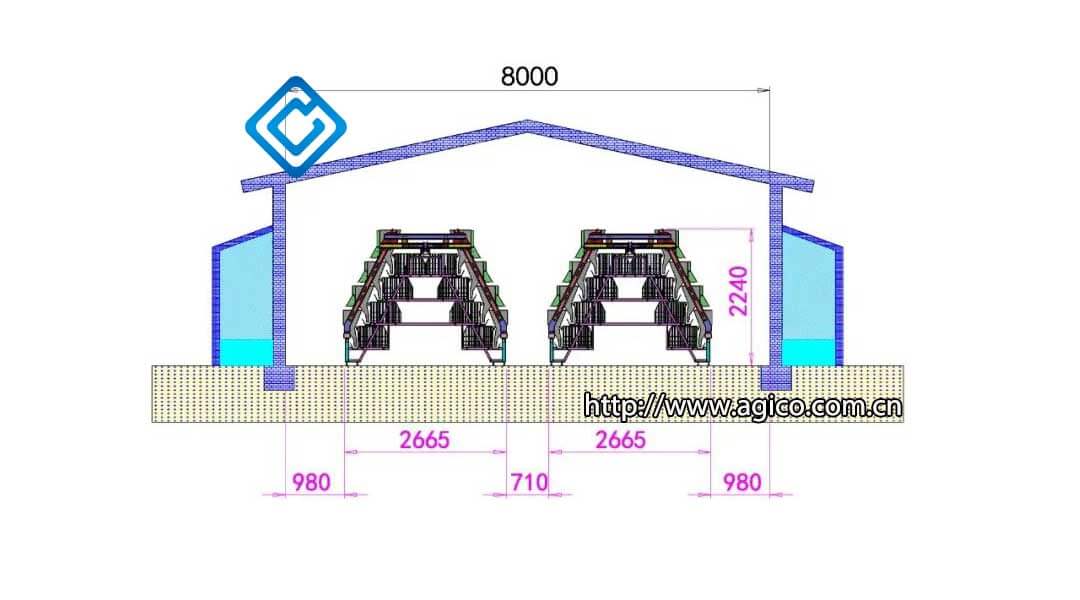 Height calculation and layout of 10000 broiler poultry house
The total height of the 4 tiers broiler cages with auxiliary equipment is 2240mm. The distance between the top of the chicken cage and the house beam should be at least 800mm, so the height of the beam of the 10000 broiler house should be at least 3040mm.
AGICO Provides You with Intimate Poultry House Customization Services
If your site area is quite different from the plan, or if you have a different number of chickens, please leave a message and tell us your needs. We have a professional design team that will tailor a poultry house plan for you. AGICO has model projects in many countries and regions. If you want to refer to or visit the chicken house projects we build for customers, please leave a message and let us know.