Small Pellet Mill For Sale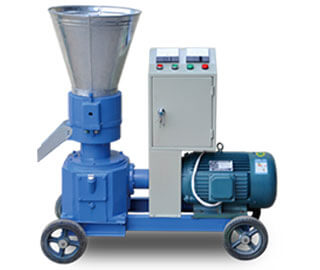 Do you want to find a simple structure, wide applicability, small footprint, low noise small pellet mill? Small pellet mill is the best choice for you!

If you want to make full use of your biomass wastes, such as wood, wood, bamboo, pine trees, alfalfa, straw, wheat bran, cotton stalks, rice husk, cotton stalk, and many other biomass materials. Small pellet mill can perfect to help you.
Send Enquiry Now!
Why Do You Need A Small Pellet Machine?
The small pellet machine is a kind of biomass pellet mill. It is more suitable for small-scale production of household or farm pellets due to its small size and easy movement. Small pellet mill can be use the agriculture and forestry processing wastes such as sawdust, straw, rice husk, corn stalk, wheat straw, rice straw, peanut shells, corn cobs, cotton, soybean pole, chaff, weed, branches, leaves, sawdust, tree bark biomass as raw material, through pretreatment and process, the curing forming for high density of pellet fuel. Pellet product is an ideal fuel to replace kerosene, so that small pellet machine can not only save energy but also reduce soot emissions, and economic and social benefits, is a kind of high efficient, clean and renewable energy equipment.
The pellet fuel produced by the small pellet mill is made of pressing the roller and the ring mould at normal temperature, and is used for extruding the raw materials such as sawdust, straw and so on. Raw material of the density is about 0.6 to 0.8, the general forming particle density is greater than 1.1, the transportation, and storage is extremely convenient. At the same time, the biological pellet fuel has improved its combustion performance, brought a certain economic benefits.
The use of household small pellet machine is a general trend of globalization, people all over the world are using biomass pellet machine. One day you may be surprised to find that your neighbours are using it.
Need other kinds of pellet machine? We have small wood pellet mill and small feed pellet mill for sell on your needs. If you are interested in them, please contact us for more details.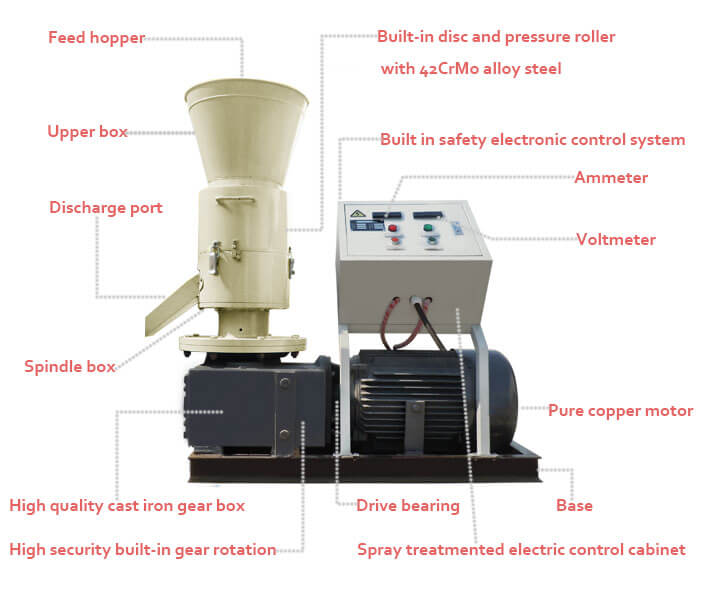 How To Choose A Suitable Small Pellet Mill?
We have different types of pellet machine performance for you table as follows, you can control your need to choose the appropriate models. If you have anything doesn't understand, welcome to contact us, we will provide the most suitable solution for you.
Appearance
Model
Power
Capacity(kg/h)
Weight(nw/gw)
ZLSP-D 150B
5.5kW
50-100
95/110
ZLSP-D 200B
7.5 kW
80-120
200/230
ZLSP-D 230B
11 kW
120-200
290/320
ZLSP-D 260B
15 kW
160-250
320/360
ZLSP-D 300B
22 kW
250-400
350/380
ZLSP-D 150C
5.5kW
60-110
105/125
ZLSP-D 200C
7.5 kW
80-120
210x230
ZLSP-D 230C
11 kW
120-200
290/320
ZLSP-D 260C
15 kW
160-250
340/370
ZLSP-D 300C
22 kW
250-400
425/465
ZLSP-D 150A
8HP
50-100
180/220
ZLSP-D 200A
15 HP
80-120
210/240
ZLSP-D 230A
22 HP
120-200
280/310
ZLSP-D 260A
30 HP
160-250
330/360
ZLSP-D 300A
41 HP
250-400
410-450
ZLSP-150Q
7.5H
90-120
180-220
ZLSP-D 150P
≥8 HP
50-100
90-110
ZLSP-D 200P
≥15 HP
80-120
130/150
ZLSP-D 230P
≥22 HP
120-200
175/200
ZLSP-D 260P
≥33 HP
160-250
235/255
ZLSP-D 300P
≥41 HP
250-400
305/325
AGICO Pellet Machine Product Advantages
We have excellent development team, with the world's leading processing equipment, strict quality control standards for the small pellet machine product to ensure the performance and quality of pellet products.
We have a variety of small pellet mill products suitable for different materials and different uses, but also with different types of millstones, to meet the needs of different materials, granulation.
Small pellet mill formation rate is high; the pellets have high hardness and smooth surface, good for transportation and storage.
Small pellet machine design is reasonable, with the advantages of simple operation and no noise.
High quality raw materials

High quality raw materials: feed hopper on the side of small pellet mill made use of high-grade steel; gear box adopts high quality cast iron materials, low noise, and good shock absorption.
Use high quality alloy steel

Roller with high quality alloy steel as raw materials. The surface hardness of small pellet machine can reach HRC58-61, with strong resistance to wear; In the process of using hardness difference less than HRC3, put an end to the crack, metal shed and the phenomenon such as eccentric wear, greatly improving the service life of ring die.
Electric control box

Electric control box with spray treatment, high thickness, strength and toughness enhancement, electrical box adopts urgent stop switch, safe and durable to use.
Safety electronic control system

Built in safety electronic control system, fully comply with CE standard operating system.
How To Install A Small Wood Pellet Mill?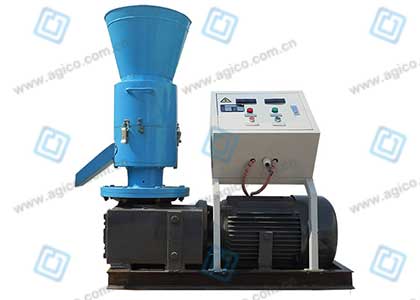 R-Type Small Pellet Mill
R-Type Flat Die Mini Pellet Machine R-type mini pellet machine also belongs to the flat structure pellet machine, due to suitable for small-scale production of household pellets making, it is also called homemade mini pellet machine or home...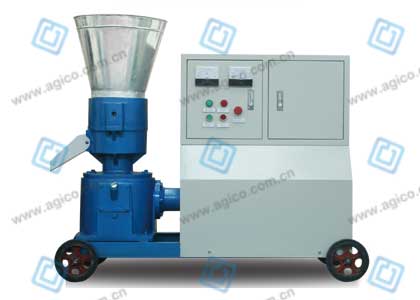 D-Type Small Pellet Mill
Flat Die Mini Pellet Mill Mini pellet mill and mini wood pellet mill are generally suitable for small scale pellet production of household or for small pellet production line. We also call it homemade mini pellet mill. Therefore, mini pelle...