Screw Briquetting Machine
What Is A Screw Briquetting Machine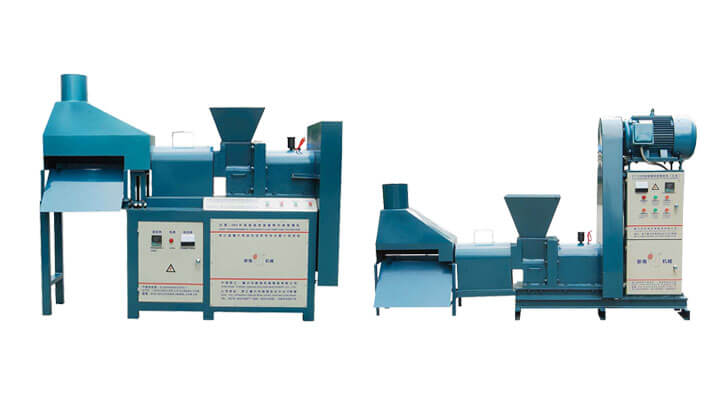 In all kinds of briquetting machines, screw briquetting machine is to compact the powder material into biomass briquettes. There are two types of biomass briquetting machines, screw briquetting machine and stamping briquetting machine.
Screw press briquetting machine can produce biomass briquettes with higher compaction. After feeding, the material is conveyed to the briquette forming head by a revolving screw shaft driven by electrical motor or biodiesel motor. The screw shaft is the main part of screw press briquetting machine. The screw distance becomes smaller and smaller along the screw shaft to briquette forming head. With the decreasing screw distance, the material endures bigger and bigger pressure. At end, different shapes of biomass briquettes form out under huge pressure from revolving screw shaft. Because of the shaft, there is a hole left in the center of biomass briquette column.
Compared to solid, the hollow in the center of biomass briquettes makes for burning. The speed of screw briquetting machine is so quick (20 seconds can create a 60 cm long fuel wood briquettes), and the screw pressure is bigger than jam pressure, so the biomass briquettes have high a density which is easy for transport and storage. With these good features, screw briquetting machine is more popular in the production.
Send Enquiry Now!
How To Use Screw Briquetting Machine Make BBQ Charcoal Briquettes?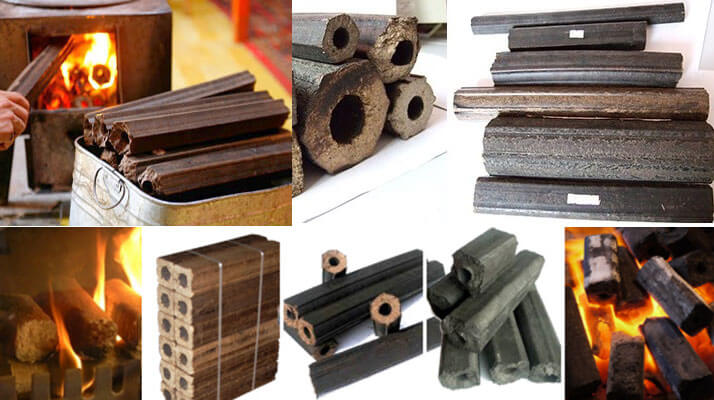 Charcoal processing generally requires the use of screw press briquetting machine, charcoal furnaces and other equipment. If the size and humidity of the raw materials are not suitable, the crusher and dryer are also needed.
Firstly, crushing raw materials to less than 10mm with a hammer mill. Use a dryer to treat raw materials with a moisture content of less than 12%.
Secondly, the raw materials are put into the briquetting machine, and then made into wood briquettes by the action of high temperature and high pressure of the briquetting machine.
Finally, the wood briquettes were put into the carbonization furnace for carbonization, and the BBQ carbon rod was finally obtained.
What Kind Of Raw Materials Are Suitable For Screw Briquetting Machine Processing?

Screw press briquetting machine can processing raw materials such as sawdust, bamboo bark, branches, walnut shell, chestnut shell, cotton stalk, sesame stalk, corn stalk, sunflower stalk, soybean stalks, rice husk, bagasse, corncob and so on.
These materials are crushed (diameter below 6mm, such as rice husk, sawdust without crushing) through the mechanical extrusion of the four edges, hexagonal or square hole forming fuel.The natural packing density of the raw material before the molding of the fuel briquettes is 60-350kg/m3, and the density after molding is 1100-1400kg/m3. It can be seen that the density of the fuel briquettes after extrusion has increased several times to ten times than before.
Therefore, the density of the uniform fuel briquettes which made by the screw briquetting machine can greatly limit the release speed of plant volatile combustion, can alleviate because straw burning wood and air supply, extend combustion time, and can improve the efficiency of 30%-40%.
How To Choose A Suitable Screw Briquetting Machine?
After years' experiment, we develop this kind of screw briquetting machine with capacity from 180kg per hour to 350kg per hour. We have five models screw briquetting machine for you to choose, different output capacity, different briquettes size, different machine weight, you can choose what you need.If you have anything doesn't understand, welcome to contact us, we will provide the most suitable solution for you.
Model
GCBC- I
GCBC-II
GCBC-IIA
GCBA-I
GCBA-II
Output capacity
(kg/h)
180-210
300-350
300-350
180-210
280~350
Motor Power
(kw)
15
18.5
18.5
18.5
22
Electric heater
(kw)
2.2*2kw
2.2*2kw
2.2*2kw
5kw
5kw
Size of briquettes
Φ=40mm, 50mm, 60mm, 70mm
Size of inside hole
Dia.16mm
Dia.16mm
Dia.16mm
Dia.16mm
Dia.18mm
Density of briquettes
1.3 g/cm3
1.3 g/cm3
1.3 g/cm3
1.3 g/cm3
1.3 g/cm3
Weight(kg)
700kg
1000kg
800kg
560kg
780kg
Packing Weight
(kg)
800kg
1100kg
900kg
660kg
880kg
Overall dimension
(mm)
1800*700*1840mm
2000*600*1700
2000*600*1700
1600*1000*1000
1500*1200*1600
Life of the inner former
1-2years
1-2years
1-2years
1years
1years
AGICO Screw Briquetting Machine Advantages
Compared with wood pellets fuel made by wood pellet mill, the wood briquettes fuel made by screw briquetting machine can reach a length of 40-70mm, the shape of four corners or hexagonal optional, with a larger volume and surface area, and a longer burning time. It is more suitable for the combustion of thermal power plants and large boilers that need a large amount of energy for a long time.
1.Screw briquetting machine pitch increases, increasing the amount of feed, thus greatly improving the production.
2.Design of automatic control of electric heating device, can be randomly adjusted dry material moisture to ensure that the material forming stability, improve work efficiency.
3.The structure of the forming cylinder adopts the latest improvement technology, reduces the friction between the machine and the raw material, increases the density of the mandrel.
4.Forming sleeve with special formula alloy material precision casting, life up to two year, this cutting edge technology not only greatly reduces the cost, but also saves manpower.