Mobile Biomass Pellet Plant
Small Mobile Biomass Pellet Plant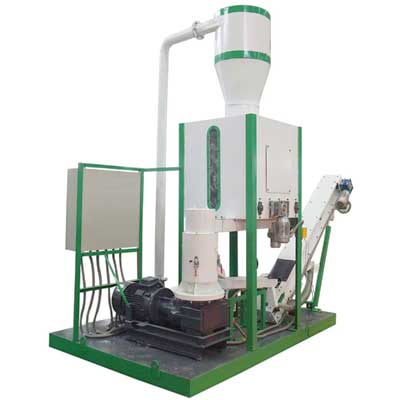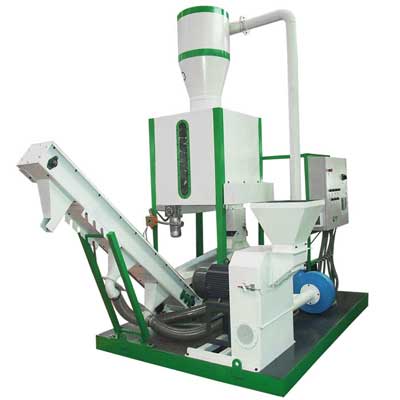 Due to the rapid increase in the need of energy source, more people start to become interested in mobile biomass pellet plant, they want to turn biomass wastes into pellets fuel and to be benefit from this business.
Mobile biomass pellet plant (mobile wood pellet plant) is specializes in making biomass pellets and wood pellets. As we all known, with the growing shortage of raw fuel resources, the prices of fuel, oil, gas and diesel have also increased year by year. So biomass pellet fuel is widely accepted by people for its wide selection of material, low cost and high efficiency.
Our MPL300 and MPL400 mobile wood pellet plant can meet demands of wood pellets fuel making. If you have a mobile wood pellet plant, you're equivalent to having hammer mill, cyclone separator, mixing bin, water tank, screw conveyor, wood pellet mill, vibrating screen, scraper conveyor, electric cabinet, and foundation frame, and etc. The capacity of mobile wood pellet plant is from 250kg/h to 450kg/h, can meet your requirements of pellet fuel making at home or in the biomass pellet factory.
In addition to the biomass pellet equipment highly integrated, the biggest highlight of the mobile biomass pellet plant is that it is very convenient to move. It can be moved near to raw material and reduce transportation cost for raw material. It's excellent to be owned by a farm.
| Model | Capacity (kg/h) | Pellet Diameter (mm) | Power (kw) | Size (mm) |
| --- | --- | --- | --- | --- |
| MPL300 | 250-350 | 6-12 | 41.25 | 3500*1960*3500 |
| MPL400 | 350-450 | 6-12 | 49.25 | 3500*1960*3500 |
Mobile Biomass Pellet Plant Raw Materials
Biomass pellet mill and wood pellet mill in the mobile biomass pellet plant can process all kinds of raw materials which cover crop straw, rice husk, peanut shell, sawdust, branch, bagasse, bamboo residue, palm shell, and other products. Raw materials before get into the biomass pellet mill need to pay attention to the following two points.


Peanut shell pellets, wood pellets, rice straw pellets and grass pellets
The size of the raw material should be suitable
Our usual raw materials, such as peanut shells, sawdust, straw, etc., need to be crushed by a hammer mill to process the raw materials into suitable sizes and then granulated. Mobile biomass pellet plant with its own crushing system, as long as the material is put into the inlet of the feed, the crushing process can be completed. However, if your raw material is a whole log or a larger one, you need to divide it into smaller pieces first and then put it into the material inlet.
The moisture content should be equal
The high or low water content of the material is not conducive to the formation of particles, and it will also affect the smoothness of the surface of the particles. The best material moisture content should be kept between 14% and 20%. In order to ensure the quality of finished pellet products made by mobile wood pellet plant, a drying equipment is very necessary.
The Advantages of Using Mobile Biomass Pellet Plant for Pellets Production
Based on decades of experience in the field of pellet making machinery manufacturing, we recommend to you mobile biomass pelleting plant. That is because it has the following advantages:
It moves more flexibly than the traditional pellet plant. With smaller size, mainly about 3.5*2*3.5m³.
All the parts used for our mobile pelletizing equipment system are from the Schneider, so they are reliable and trustable.
It integrates all the functions together, such crushing system, pelletizing system, cooling and conveying processes. Which can improve output and save money. The mobile pellet plant price is very reasonable and you deserve it.
The variable-speed feeder allows you to adjust the feeding speed to fit different materials, which ensure the pelletizing quality of mobile biomass pellet plant.