Oil Deodorization
Oil Deodorization
Oil deodorization is an important part of oil refining process. Oil deodorization can not only remove the odor material, improve the oil smoke point, improve the flavor of edible oil, still can make the stability of the oil, chromaticity and quality improved. Because in the deodorant process also can remove free fatty acid, peroxide and its decomposition products and some heat sensitive pigment, remove protein mildew in oil volatile decomposition to remove polycyclic aromatic hydrocarbons, small molecular weight and pesticide residues, which decreased to a safe range. So oil deodorization has been paid attention to in the production of high-grade edible oil products.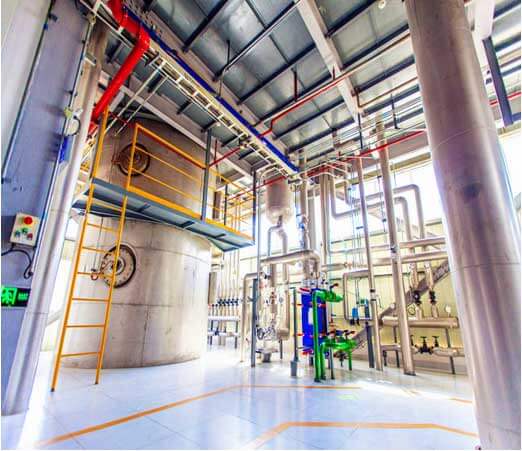 Oil Deodorization Main Equipment ---Deodorization Tower
Main specifications: 50-50000 T/D
Suitable for soybean oil, cottonseed oil, rapeseed oil, tea seed oil, sunflower seed oil, rice bran oil, corn germ oil and other edible oil refining.
AGICO design and production of oil refining equipment deodorization tower has the following features:
Using stainless steel structured packing, increases the vapor-liquid contact surface area of the gas-liquid mass transfer effect, shorten the residence time of oil in the tower, effectively reduce the formation of trans fatty acids, ensure the quality of products.
High temperature can make oil pigment, hydrogen peroxide and other substances decomposition, easy to improve the oil smell, taste and color.
The fuel tank has a large surface area, improves the vapor liquid mass transfer efficiency, and saves the steam consumption of the steam vacuum system (50%~70%).
The deodorization process can realize physical deacidification, no waste water discharge, high efficiency and environmental protection.
The utility model has the advantages of compact structure, small occupation area, low cost of construction and installation, simple maintenance and convenient transportation.
AGICO can provide you with oil refining deodorization tower equipment design, manufacture, installation, commissioning and after-sales service. Contact us now!