Hammer Mill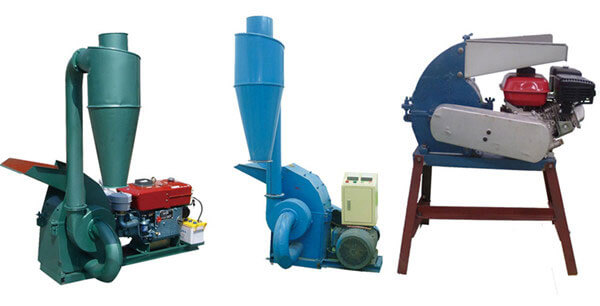 Hammer mill mainly broken materials by impact collision, the materials enter the hammer mill and is crushed by the impact of a high-speed rotary hammer. The hammer mill has the advantages of simple structure, large crushing ratio, high production efficiency, etc. Now on the market mainstream small hammer mill mainly include diesel engine, electrical engine and gasoline engine style.
The Working Way Of Hammer Mill Grinder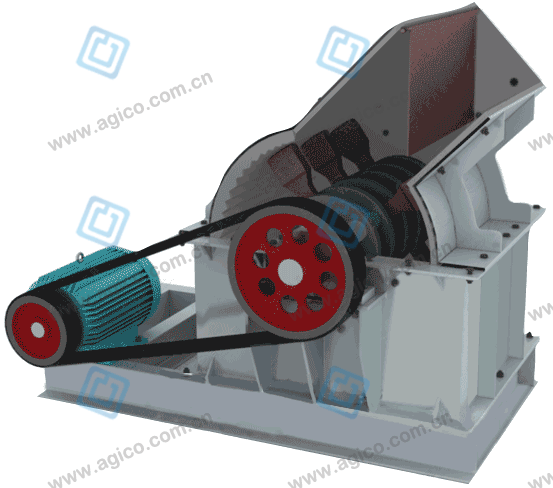 Hammer mill grinder to break the main mode of operation is the role of high-speed rotation of the hammer hit group. The hammer mill machine is suitable for fragmentation of brittle materials. For example, straw, corn stalk, peanut shell, weed and tree branches and other materials can be broken to about 2-5mm. And hammer mill grinder can ensure that the product size keep uniformity, not mixed into the size of the product large size particles, more used in biomass medium grinding and fine grinding in the process of biomass processing. Compared with other types of hammer mill machine, AGICO hammer mill has the advantages of simple and compact structure, large production capacity, large crushing ratio and less power consumption. In addition, the rotor balance in hammer mill machine in the use of the process also need to pay attention to. If the rotor is not balanced, harmful vibrations will occur at high speeds. If the hammer does not conform to strike balance requirements, will also produce harmful reaction, additional energy consumption and reduce the service life of bearing.
Why We Need Use A Hammer Mill Grinder During Pellet Making Process?
For proper working of biomass pellet mill and briquetting machine in the complete pellet plant, size of biomass waste is important. There are two types of crushing machine available for make suitable size sawdust or biomass grain for pellet mill. They are wood crusher and hammer mill. The choose of proper model depend on the types and size of your raw material.
Wood Crusher
Wood crusher (chipper) is suitable for preparing sawdust or biomass small grains for wood pellet mill and briquetting plant. It can crush raw wood of size less than 200mm (diameter) into size of 3-5mm (diameter).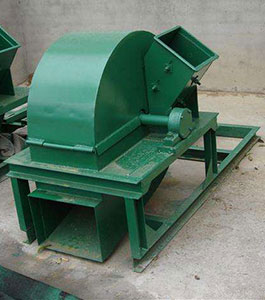 | | |
| --- | --- |
| Model | Wood Crusher(For fresh or dried raw wood) |
| Capacity(kg/h) | 400-500 |
| Diameter of Feeding Material | Not more than 150-200mm |
| Size of crushed material | Max. Ø5×5mm |
| Motor | 11kw |
| Gross/Net Weight | 400/350kg |
| Overall Dimension (mm) | 1250*700 *910 |
Hammer Mill
Hammer mill is suitable for preparing suitable size raw material for biomass pellet machine. It can mill raw material like tree branch, tree trimmings,wood chips, wood cuttings, cotton stalk, corn stalk, wheat straw etc) of size max. 50mm (diameter). After milled, the output size can reach diameter 3-5mm, that is good for working of following biomass pellet machine and briquette press.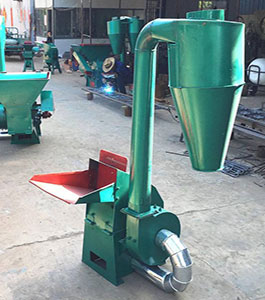 Model
Hammermill(for wood chip/tree trimmings/wheat straw/plant stalk etc)
Capacity(kg/h)
500-700
Diameter of Feeding Material
Max. diameter 50mm
Size of milled material
Ø5×5mm
Motor
18.5kw
Gross/Net Weight
550/650kg
Overall Dimension (mm)
1250*700 *910
Cyclone (2400*800*800)
Hammer mill grinder can be used with pellet machine or briquetting machine. As a professional manufacturer of pellet machine, AGICO also suggested you use the hammer mill to pretreatment materials before start pellet making, that is because:
Through the crusher to crush the material, can effectively improve the material granulation molding.
It can improve the digestion and absorption of animal nutrition and reduce the adverse effects on the digestive system of animals through the use of granular mechanism.
Use the hammer mill made of biomass particles after crushing, will burn more fully, improve the utilization rate of fuel.
Hammer Mill Product Features
Hammer mill machine equipped with air flow control valve, no downtime can control the product fineness, no dust pollution.
Hammer mill with cooling function, crushing temperature is low, the product size uniformity.
Hammer mill equipment reasonable compact structure, small volume, low consumption, high efficiency and low noise.
Cold sealing is reliable, since the function is good, simple installation, easy disassembly and easy fix, switching loss a convenient.
Hammer head after the special craft processing, more practical than ordinary hammer head.
How to choose a suitable hammer mill for me? What is the price of the hammer mill grinder? You can choose different models hammer mill according your pellet production. AGICO hammer mill with low price, high output, low consumption, low noise, low failure, machine fatigue resistance is strong, can continuous production, economic and durable, is one of the most popular hammer mill brand all over the world. If you'd like to know the detailed pellet machine equipment price and configuration, please leave a message to us, our sales manager will contact you in time to answer your questions.